We Want to Know Wednesday – Happy Thanksgiving, gobble gobble!
November 23, 2011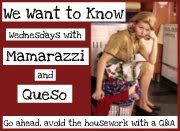 I'm having a hard time with today being Wednesday, and not Tuesday. That's probably because my work week starts on a Tuesday. So Tuesday is now my Monday and my whole week is shifted to the right. Good thing I'm not too late to play WWKW.
1. What is your favorite food item at Thanksgiving?
Love the roast turkey most but that doesn't mean I don't like everything else that's on the table.
2. What is your least favorite?
I'm not sure there's anything I don't like about Thanksgiving.
3. Do you have a favorite pie? (Share a recipe if you want or just tell us about it and make us drool)
Love pumpkin pie but minus the cream. But I'll pretty much eat anything 😆 .
4. Do you have any Thanksgiving traditions?
Not really. Trust us to have done all kinds of weird things including substituting the turkey with chicken some years or grilled lamb instead. So it really depends. This year, we're giving the poor turkey a break and having roast chicken (it's still a bird, ain't it?) instead because Steev is away at college and between me and the girls, I don't think we want to be doing nothing but turkey leftovers for 2 weeks.
5. Black Friday shopping? Do you participate in the delightful running through the stores in the wee hours or the morning madness or hibernate at home and shop online?
We will be shopping online. In fact, Raine's already started stalking her favorite stores.
Happy Thanksgiving! Have a fabulous holiday. Be safe if you're traveling. And my personal festive philosophy – eat, drink, enjoy, everything in moderation 😉 .
If you'd like to jump in and play the Thanksgiving edition, go grab this week's questions from any of these lovely ladies, Queso, Mamarazzi and Crazymama.
You May Also Like
September 1, 2020
December 2, 2019
October 29, 2018