We Want to Know Wednesday – Musical talent edition
November 16, 2011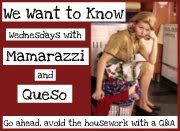 Man, this week sure is flying at the speed of light. Didn't realize I've been MIA since the weekend but look, it's hump day. Yeah, I know I could take the easy way out, grab a random picture and play Wordless Wednesday but I love the cool questions that
Queso
,
Mamarazzi
and
Crazymama
have on WWKW every week.
1. Do you have any musical talents?
I'd certainly like to think so. Have to confess I'm a guitar and piano dropout but I love to sing bawl out loud.
2. What role, if any, does music have in your life?
I have a song for every occasion. Oftentimes I find myself answering my kids (or anyone else who'd care to listen) in song. I don't do it on purpose, it's just a sort of reflex. I also tend to associate certain songs with certain events in my life. Whenever I hear those songs, I get transported back to that moment in time.
3. What is your all time favorite song?
Love the movie, love the song.
4. Do you sing in the shower?
I used to but then I noticed my neighbors starting to move out one by one. I've since taken my live concerts into my car. It's the only way I get to perform in front of an captive audience.
5. Has a song ever made you cry?
Yup, hopeless romantic that I am 😆 .
You May Also Like
August 8, 2019
September 22, 2018
October 29, 2019