We Want to Know Wednesday – Glam edition
November 9, 2011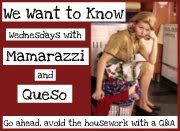 Time for another edition of WWTKW with
Queso
,
Mamarazzi
and
Crazymama
. Let's just say I'm more of a clam than glam.
1. What is your "can't go without it" beauty product/cosmetic?
Can't live without my eyeliner, lip gloss, moisturizer and sunblock. Well, I've been known to run around sans eyeliner on a lazy day but lipstick is a definite must. If I don a white sheet with no lipstick and flap my arms about, I would scare the daylights out of anyone!
2. Do you apply make-up before or after doing your hair?
Before. My hair is straight and kinda short (at my shoulders) so it needs nothing more than a quick brush or a few shakes.
3. How would you describe your personal style?
I'd have to say practical, comfortable and lots of color. I don't spend a lot of time pondering what to wear. Skinny jeans, tank top, platform flip-flops or sneakers, chunky bracelets and bangles – my staples all year. One of my favorite chunkies…
4. How long goes it take you to get ready each day?
Um, 20 minutes. If I'm going out to a fancy dinner, it takes me an hour of pacing up and down going "I've got nothing to wear!!" and probably another hour to get ready.
5. What is your one pamper, just for you, beauty splurge?
I don't really have one. Never had a mani, pedi or facial in my life, or any hair steaming or salon fuss. For me, it's trim and run. Okay, so I'm deprived, I know, but I can't stand anyone touching and messing with my hair or face. I prefer to do my own messing. Nail polish is my one true love and I lurve buying skincare products especially if they come in pretty packaging 😆 .
Have an amazing hump day!
You May Also Like
September 11, 2018
July 25, 2018
July 12, 2019