We Want to Know Wednesday – To shop or not to shop
October 26, 2011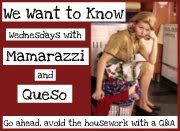 Wokay, it's time again for WWTKW with
Queso
,
Mamarazzi
and
Crazymama
, busy though I may be now that I have a
part-time job
. This week's theme is definitely something I can relate to.
1. Do you shop til you drop, or are you in and out as soon as possible?
I'm a diehard shopaholic shopping maniac! In my crazier past life before I had kids, I used to go on an annual shopping spree and literally shop from the time the stores open until 10:00pm when they close… for 3-4 days straight, stopping only to have a quick bite of lunch and dinner.
I've shopped at every place I've ever been to. Most normal people would kick back by the pool with a good book when they're on occasion. Me? I'm up at the crack of dawn and I'm ready to paaar-tay shop till I drop.
2. Are you a price conscious shopper?
I'm always up for a bargain, yes, but I also believe in love at first sight. If I see something I've just gotta have, my brain releases endorphines enshophines that make me blind to everything else!
3. What store could you spend HOURS in?
Hard to say, I have found love in the most unlikely stores. If I fall in love and one thing leads to another, it could well end up becoming a full-blown retail romance.
4. What is the most frivolous purchase you've ever made?
It's got to be something I've bought and never used. These days, with 2 kids in college, I can't afford to be as impulsive any more.
5. What was the last thing you bought for yourself?
A ruffle top from Macy's.
You May Also Like
July 20, 2018
August 8, 2018
July 5, 2019