We Want to Know Wednesday
October 19, 2011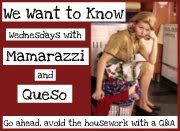 What better day is there to play WWTKW with
Queso
,
Mamarazzi
and
Crazymama
than today. They have some pretty challenging questions this week so I have to put on my thinking cap.
1. When was the last time you lost your temper?
A couple of weeks back when I had to deal with a caveman from the Stone Ages. The pressure was building up so bad it was only a matter of time before I popped. It's a dirty job but someone had to put the guy in his place 😉 .
2. What 3 words best describe you?
Sleepy, hungry and impatient (to sink my teeth into those pumpkin pancakes I'm going to make for breakfast tomorrow morning – I'm such a pig).
3. What movie could you watch over and over again and never get tired of?
I've lost count of how many times we've watched Tangled. The girls and I never tire of watching it. I'm guessing having met Rapunzel and Flynn Ryder in Disneyland has something to do with it. Hip2bDaughter2 (my 15 year old) even managed to talk Flynn into doing his smolder for her. Priceless!
4. If you could do something dangerous, just once, with no risk, what would you do?
Vacation in outer space and see it up close, touch it, smell it. I've always been fascinated by what's out there. Swirling planets, shooting stars, strange lights, gorgeous aliens maybe, who knows?

Image credit: msn.com
This amazing photo of a meteor, the Milky Way and the Northern Lights was captured by amateur photographer Tommy Eliassen in Finnmark, Norway on September 25, 2011. Amazing, isn't it?
5. Which is more important, intelligence or common sense?
I'd have to say common sense. It'd be great if more people had it.
Have an amazing Wednesday!
You May Also Like
September 30, 2020
July 20, 2018
October 16, 2018